Membership
The Massachusetts Nursery and Landscape Association (MNLA) helps its diverse members take their business and careers to the next level by providing them with access to educational programs, workshops, networking events and other professional development opportunities including the Massachusetts Certified Horticulturist Program (MCH).
MNLA also engages the general public to increase awareness of the professionalism of Massachusetts nursery and landscape industry. MNLA's membership is extremely diverse representing nursery growers, landscape contractors, container, outdoor or indoor garden designers, contractors, hardscape professionals, lawn or garden care provider; you will find your professional niche with MNLA.
MNLA is dedicated to advancing the interests of the state's green industry professionals through educational opportunities, industry news, advocacy, and business development resources.
---
MNLA members grow, sell, install, maintain and preserve the living landscape.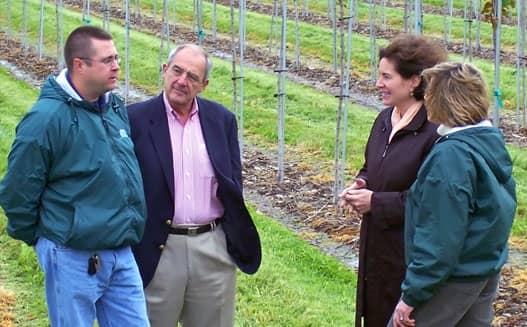 MNLA members are skilled professionals knowledgeable about the living landscape in Massachusetts, and who can help answer your questions and provide the products and services you're looking for. Whether you're looking for a garden design or landscape installation professional, a nursery or garden center, or lawn care or tree care professional; if they're an MNLA member, you can be sure that they take their profession seriously.
---
How can we help?
MNLA is a resource for answers to your horticultural questions and access to the professionals that can provide them.
MNLA members care about doing business right in Massachusetts. MNLA encourages leadership in the green industry by promoting the highest professional standards and ethically responsible practices. This includes providing education and information regarding environmental impact, habitat protection and preservation, sustainability, and watershed conservation.